Broncolor Flash Tube: For over 25 years, the worldwide biggest photographic studios or equipment rental companies have replaced their original flash tubes with the Phoxene Lumix ones.
Broncolor Flash Tube: A comprehensive range of items
Phoxene has developed a broad range covering most of the Broncolor flash sets, the Swiss firm being since 1953 a major player in the business of high-end studio photographic flashes. Phoxene proposes items compatible with almost all flash sets from the BC1, released in 1953, to the last Scoro packs, including Pulso packs, Grafit packs, Verso packs, or the famous Universal blue metal heads.
Bron also left its mark on the flash business by introducing the first monolight heads, in 1968 and Phoxene compatible items are also available for C171, Impact heads, Minipuls and Minicom series, or Visatec heads. From the most famous tube for Pulso G head to the more confidential flash tube for Sunlite kits, Phoxene can provide a full solution for maintenance of this brand.
Phoxene designed a range of flash tubes, domes, reflectors, honeycomb grids, and even modeling lamps, compatible with most of heads.
Browse our on-line catalog dedicated to Broncolor compatible items and ask for a free quotation.
Flash Tubes designed to match Broncolor's items
Developing items for such a high-end brand does not allow errors – All our products match the quality of original items, and are designed to behave like the original ones. Phoxene even developed new functionalities, such as our metal rim placed at the base of the domes for most Broncolor heads, protecting this part of the dome from breakage.
The range of products Phoxene offers is developed and designed by our own team then manufactured by carefully chosen companies. We aim at offering the best consumer satisfaction in terms of quality & price. Phoxene only works with long established reputable companies to produce premium quality tubes. Once manufactured, Phoxene mounts the tubes to connectors if necessary, and then test each one individually.
Phoxene: A complete range of consumables for studio flashes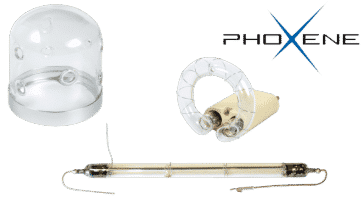 Since 1988, Phoxene (formerly Lumix) has been designing and marketing flash tubes compatible with the leading brands of flash units: Broncolor, Profoto, Briese, Bowens …
Phoxene offers a wide range of items for your studio flashes. Whether it's your Broncolor Pulso heads, your Profoto ProHeads heads, or even your old Bowens or Multiblitz heads models, you'll certainly find a flash tube for your flash gear.
And if your head is not referenced in our site, contact us; We will certainly find a compatible flash tube.
Phoxene is a team of experts dedicated to xenon flash and photo flash tubes. Whether you seek for technical or commercial information on our current product offer or you want to address new needs, our team will be keen to help you.
Compatible and quality items
Our Broncolor items are fully compatible with the original heads. The light emitted by our flash tubes is the same (in terms of color temperature and power output) as that emitted by the original tubes; similarly, the electrical features are identical. The effect on your generator is therefore similar to that of a tube of the original brand.
Most of our products are "made in France", and special attention is paid to their quality. Our customers plebiscite our articles, and give up the original articles, privileging ours.
Some Phoxene products for Broncolor